Located in the peaceful Setouchi region, Utazu's Co-machi is a small town with a long history that you will enjoy exploring. Put a map in one hand and wander about aimlessly. You can also take a short hike (Mt. Aonoyama, 224-meter high), go to Rinkai Park to admire the Great Seto Bridge, and enjoy the Shikoku Aquarium. Guided tours are also available for those who wish to explore Utazu and Co-machi more deeply. If you are interested, please let us know.
---
Walk around Co-machi, a small town
Utazu is a compact and convenient town. You can enjoy strolling around the area while staying at Co-machi-no-ie.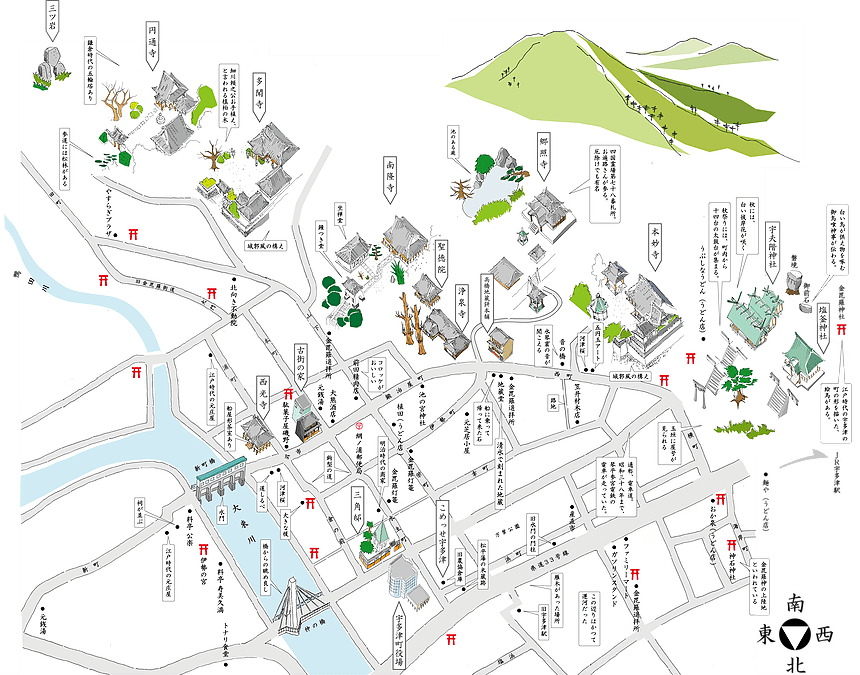 A community with shrines
Everyday life takes the stage in neighborhoods such as Hon-machi and Kago-machi. When you walk down the alleys, you will come across shrines in each neighborhood, some of which serve as community meeting spots. There are also wooden lanterns on the street for visitors to Konpira shrine. Residents were said to have taken turns lighting them. Shrines including small wayside shrines also serve as places to connect people and support them in their daily lives. This way of life, while gradually evolving, has lived on since the Edo period.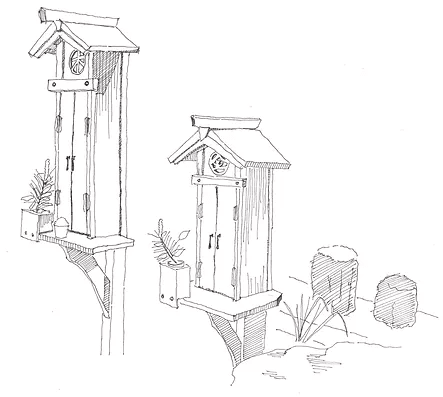 Land allocation
Most of the urban planning for Co-machi was completed in the Edo period and has succeeded through the Meiji, Taisho, and Showa eras to the present. The streets form a grid pattern with Marugame Highway and Konpira Highway as the axes. The fruits of the ancestors' wisdom are linked together with Co-machi's beauty and livability today.
The neighborhoods and their names
Houses that face each other across a street make up a machi community. These communities have a history going back to the Edo period. Some of their names are related to ports, such as Ura (inlet) and Kago (boatman). Today's neighborhood self-governing bodies carry on these communities' names and their coordination.
Co-machi townhouses
Machiya townhouses built between the end of the Edo period and the beginning of the Showa era remain in Co-machi. Machiya are traditional urban buildings with a narrow frontage and a long depth built on a thin rectangular plot of land known as an unagi no nedoko ("eel bed"). Co-machi's facades appear gentle and the corbels that support their mushikomado lattice windows and degoshi projecting lattice are solidly built. However, there are many townhouses that incorporated Western-style rooms in the early Meiji era and made lavish use of fine granite, which surely must have taken skill and effort, and that were constructed in the "hirairi" architectural style where the street-facing entrance is non-gabled. Large townhouses have a separate zashiki (tatami room) next to the main building that form a wall along the road boundary creating the unique Utazu landscape. Another feature of townhouses is that on the interior on one side is an earthen floor, which serves as an open fireplace and passageway leading from the street to the courtyard, and along the other side are adjoined living spaces, and in the living space further back is a kitchen and zashiki.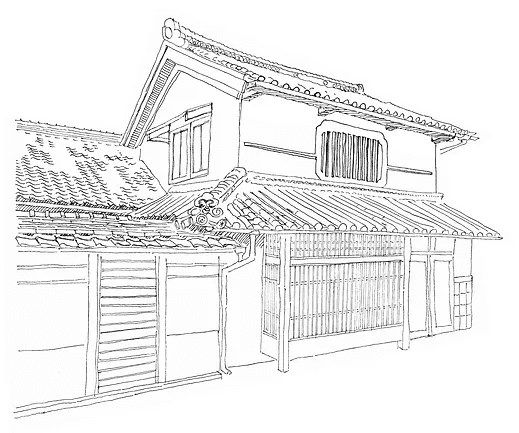 ---